Beautiful industrial wooden bed models you can't take your eyes off
Industrial wooden beds with beautiful, modern, luxurious and affordable designs are manufactured directly at the factory according to their own design.
Bedroom space is more and more appreciated by homeowners in each interior design. And the bed is the soul of the bedroom space. A beautiful, comfortable bed will help you temporarily forget the fatigue after a long day. A beautiful bed also helps you regain inspiration for a new day after a good night's sleep. Industrial wooden beds with modern, luxurious design and affordable prices are increasingly becoming a trend in modern life. Join Anviethouse to refer to the beautiful industrial wooden beds below to get more ideas for the bed in your family.
Why choose industrial wooden bed?
There are many materials that make up a bed. Each material has its own advantages and disadvantages. However, because of the preeminent features contained in the characteristics, industrial wood is preferred in the design and construction of beds.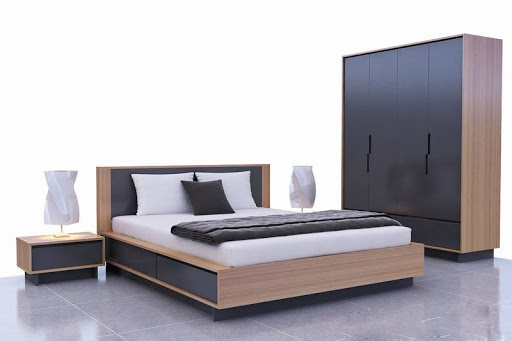 Beds made from industrial wood ensure rigidity, durability, open surface, easy to design, fast production and construction, much cheaper price than natural wood. With a smooth surface, and a variety of wood grain colors to help exude a modern and luxurious look that plastic, iron, and stainless steel beds cannot guarantee.
These types of industrial wood are very popular in the market. Wide range of colors and materials. You can paint, cut and combine to transform the bed according to your wishes.
Some common specifications of industrial wooden beds
Normally, plywood core has 3 types of MFC, MDF and HDF. In which, MDF is the most popular industrial wood board today and is used a lot when designing and constructing industrial wooden beds.
Industrial wood surfaces are diverse in designs and colors with many outstanding advantages. The surface of industrial wood when producing beds can be covered with melamine, PU paint, or Laminate... all to increase the aesthetics of the bed.
Features of industrial wooden bed models
Industrial wood beds help minimize cracks and termites like natural wood. Good scratch resistance, green core laminate has high moisture resistance.
Industrial wooden beds have a variety of wood grain and colors that always meet the wishes and preferences of many people.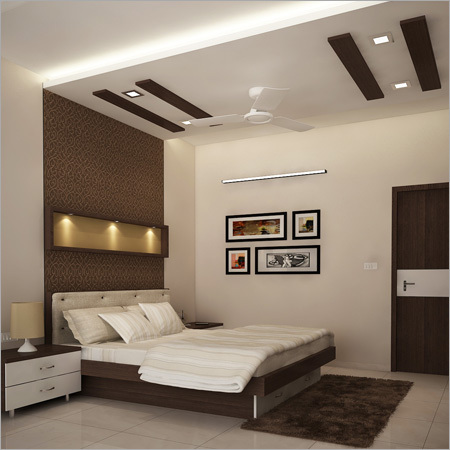 Industrial wooden bed models have high aesthetics, good durability, suitable for modern house style and current housing market trends.
The industrial wooden bed models ensure environmental friendliness, there are no chemicals to preserve the materials that make them, ensuring safety for family health.
Beautiful, modern industrial wooden bed models
Industrial wooden bed with drawers
A bed just for sleeping has become limited with a small sized room. Instead, industrial wooden beds with drawers make them convenient but still ensure their own aesthetics.
The advantage of industrial wooden bed models with drawers is to take advantage of the empty space under the bed to design drawers for storage. You can even use it as your own bookshelf without the expense of buying additional cabinets or display shelves.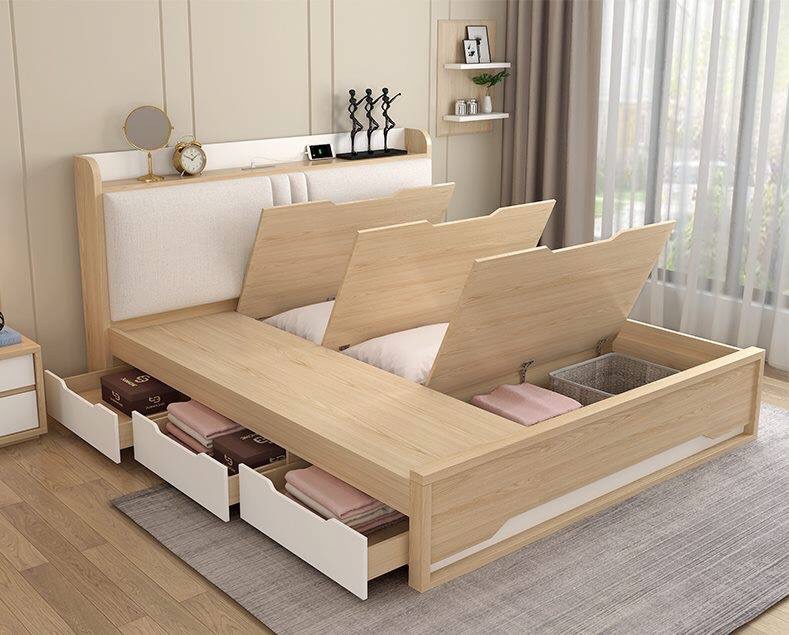 The podium design makes it convenient to find things when you're in bed and saves space in the bedroom without being cramped. The lower drawer has a large area, so the storage capacity also increases.
These beds will be extremely suitable for small rooms, rooms with too much miscellaneous furniture, or rooms that are geared towards leanness.
Smart industrial wooden bed
With a unique design, an industrial wooden smart folding bed disappears behind the door after only a few moves.
This type of bed has a powder-coated steel frame, a spring-loaded spring system, thereby making bed manipulation softer that anyone can do it easily.
With a bed combined with display shelves, it will bring a spacious airy space. With this design you can place the bed in the bedroom or living room if you want.
If displaying the bed in the living room, this is mainly used as a display shelf and sofa set. If you have visitors, you can fold it down into a bed for guests to sleep in.
The disadvantage of this bed model is that if we put a large mattress to lie on, it is very difficult to open the upper compartment.
Industrial wooden bunk bed
For households with a large number of members but limited area, need to make use of space for other things, the wooden bunk bed is the most optimal solution in interior design.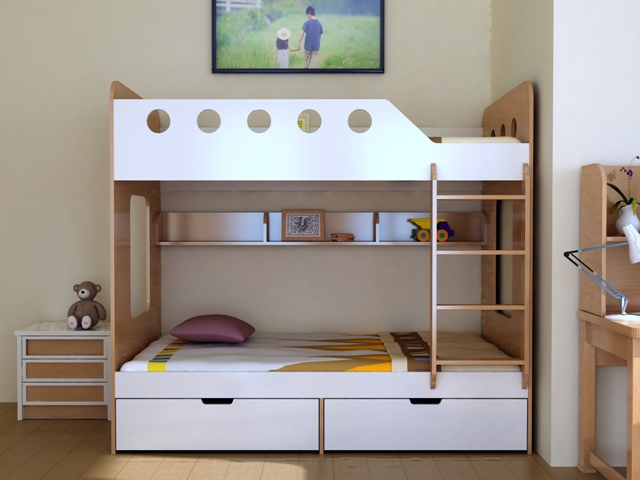 Due to the ease of construction and decoration, industrial wooden bunk beds are more popular than other materials. The bed has drawers under the bed and drawers on the stairs for lots of storage.